Our body naturals Amla Bhringraj hair oil is enriched with sesame oil, sunflower oil, castor oil, black seed oil and extra virgin coconut oil. Infused with amla and bhringara, it is j designed for hair growth and loads of other benefits for the hair.  Amla acts as a natural remedy due to its high iron content and potent antioxidants. The presence of ellagic, gallic acid and carotene content in Amla is responsible for improving blood circulation around the scalp.  This helps stimulating hair growth and also providing relief from dry, itchy scalp.  Abundance of Vitamin C in Amla helps to combat premature graying of hair and helps the hair to retain its natural color.
Bhringraj is known as king of hair and is well known for its great remedy for hair concerns. It has proven potential of promoting hair growth, strengthen hair  and prevent graying and dandruff in scalp. Bhringraj  increases blood circulation to the scalp and roots, which promotes hair growth. Our amla bhringraj oil activates the hair follicles, which enhances hair growth. This effective combination of amla and bhringraj helps hair growth and maintain natural luster of hair.
WHY USE AMLA BHRINGRAJ HAIR OIL ?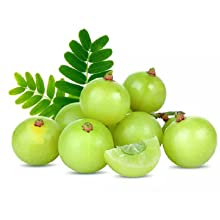 Controls hair fall considerably
Promotes Hair growth
Prevents graying of hair
Strengthens hair follicles
Reduces dandruff and dry scalp
Prevents split ends.
Best suited for : All hair types.
Usage Frequency : can be used daily
Product Texture : Liquid
Gender : Unisex Product.
Only Natural And Organic Extracts are used while making of the oil.
Mineral Free
Chemical Free
Sulphate Free
Paraben Free
Handcrafted in India
Store the hair oil in a cool, dry place